Exporting to China one of the largest and fastest growing markets in the world is an exciting time for any company and should be the start of a period of expansion and growth for the company.  The Chinese economy has created a huge wealthy middle class with a high disposable income and a thirst for quality athentic products especially from the west including the UK, Europe and America.  The opportunities are immense
Exporting to China can however seen daunting and if fraught with a miriad of problems, red tape and hurdles.  For the in experienced or unwary this can lead to expensive mistakes or even complete failure of the venture.
We offer customers a bespoke comprehensive package to help you make a smooth transition into the Chinese market place.  Our depth of experience and wealth of contacts throughout the Chinese market place enable us to guide and assist you through the process.  We understand each company is different with its own unique requirements and challenges which is why we offer you a bespoke package to suit your needs.  At the initial consultation stage we take time to understand your business, your aims and what you hope to achieve.  We look at the level of expertise within your company and will look to fill the gaps and provide you with a cost effective solution to bring your plans to reality.  We then present you with a customised proposal for you to consider.  We are happy to work with small, medium and large companies and will design a package to suit your budget.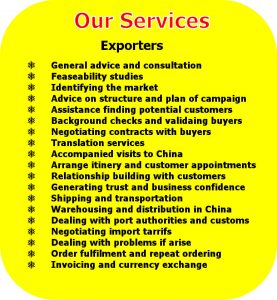 We look to work with companies on a medium to long term basis and see the process as one of evolution over time and not just a one off fix.
Having offices in the UK and China provides you with a unique resource to develop your export business in China.  You have the security and confidence in knowing you are dealing with a UK based company run by UK nationals who are able to fully understand your needs.  There are no language barriers or communication problems. Through our offices in China we have an extensive network of contacts. Our staff in China have been trading and dealing with Chinese companies for many years. Doing trade with China is very different to Europe and contacts and building trust and respect is an essential ingredient. When looking to export to China it is essential to meet the real decision makers in a company in order to trade successfully and having the right contacts helps make this happen.