If you are looking to import goods from China for the first time it can seem a daunting task.  Firstly there is the obvious problem of language.  If you are planning to visit China getting around and meeting the right people can be very difficult if you don't have contacts and reliable interpreters.  Secondly there are huge cultural differences which have a big impact on the way they conduct business.  Without good knowledge of the customs and ways it is very easy to end up with a bad deal or come away with something which turns out not to be what you thought it was!    There is very little protection against rouge companies and scams – its very much buyer beware and if it goes wrong there is virtually no comeback.  It's essential therefore to be sure before you sign or part with any money that you know exactly what your buying and that you have put the right checks and quality control procedures in place to ensure you get the right products delivered to your door.    Shipping, port protocols, warehousing and customs are potential minefields to trip up the unwary.
Having said all that the Chinese can be lovely people to deal with.  They are very keen to trade and respect strength from their customers.  Dealing with Chinese companies can be fun and very rewarding with very high quality products on offer at exceedingly good prices making it very attractive to UK importers. A reason perhaps that many large and well known high street brands buy large quantities of goods from China.  If you need help sourcing products more help is available here.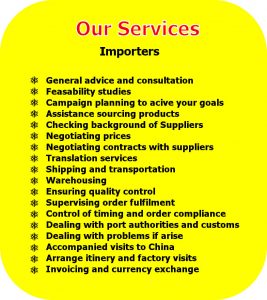 Using a reputable trading consultant can saving you thousands if not hundreds of thousands.  We are able to negotiate to get the very best deals from suppliers – we tend to deal directly with factories rather than through third party intermediaries (which adds cost and increases the chance of failed or inferior orders).  We can put in place essential systems and checks to ensure you get the correct goods and the quality is as you expected.  All of which can save you £1,000s in last or damaged orders or incorrect specifications.