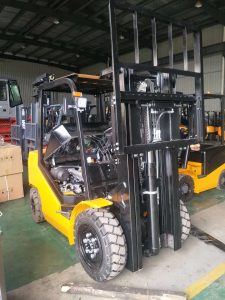 The week starts with news of a successful delivery of fork lift trucks and electric pallet trucks to one of our customers.  Single large items of Machinery like this come with particular challenges from choice of the right product, ensuring the product is suitable for use in the UK and checking all the relevant certificates are in place.
We regularly import machinery including forklifts, industrial laser cutting machines, and industrial catering machines for customers and this is the journey it takes starting many weeks earlier.
Our work starts with a careful search to find the best factory to manufacture, performing due diligence and ensuring they are a Bonafede factory and not an agent.  Negotiating the specification required by our customers who are often looking for bespoke amendments is the next phase.  Checking the required certificates and paperwork is in place and are authentic (such as CE) is an important stage in this process.  We then move onto negotiating contracts (which are written in Chinese) and prices and translating and communicating this to our customers.  At this point some customers will opt to undertake a visit to the factory which we arrange, providing one of our experience business staff in China to assist and accompany them.
Once satisfied we place orders on behalf of our customers and monitor the manufacturing ensuring the factory keeps to agreed timetables. Once manufacturing is complete we inspect the goods before arranging shipping ensuring the correct paperwork accompanies the consignment.
Finally we have to manage customs and port clearance and arrange onward delivery to our customers.   The result – a successful delivery and one happy customer.
If you need assistance to source machinery or items in China call us now on 020 3538 1703 or via our contact form https://chinauktc.com/contact-us/